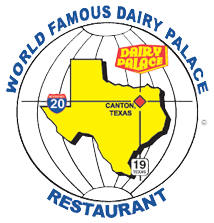 The Dairy Palace Restaurant of Canton, Texas, first opened its doors for business on October 8, 1984. In the beginning, menu choices were centered on hamburgers and fries and hand-dipped Blue Bell Ice Cream. We have since then fully developed our menu and aim to be Canton's favorite family friendly restaurant.

It soon became apparent that the menu needed to be expanded and a variety of full meal entrees began to be offered. Country breakfasts were added and menus for seniors and for kids were developed. We countined to grow our menu to include some local Tex-Mex favorites, iconic sandwiches, and classics like Chicken Fried Steaks.Thirty-two flavors of Blue Bell Ice Cream became an expected and standard menu item, along with sundaes, floats, malts, banana splits, and other favorite ice cream delights.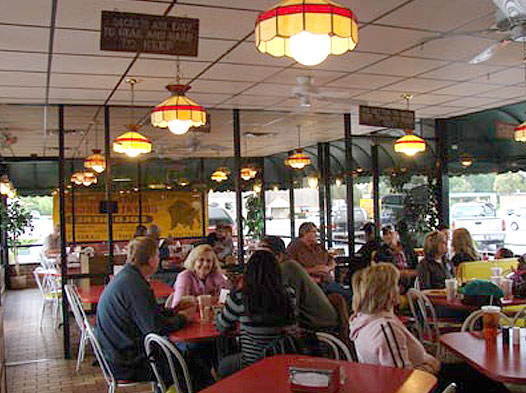 The first dining area was expanded, and in 1986, an additional dining room was added. Today the Dairy Palace building consists of three dining areas and a kitchen area that has been expanded twice.

There have been other important milestones in the life of the business. In 1993, the Dairy Palace was chosen Business of the Year by the Canton Chamber of Commerce. Beginning in 2001 full breakfasts became available any time, day or night, and, in 2006, the Dairy Palace became the first non-smoking restaurant in Canton, Texas.

The Dairy Palace is a casual, family-friendly restaurant that excels in customer service and quality, delicious-tasting food. The original Dairy Palace family still owns and operates the restaurant, and since its opening day over thirty-seven years ago, business at the restaurant has been conducted with the same commitment to excellence and integrity that brought success.

Whether you visit morning, noon, or night, it is our desire that you find friendly service and enjoyable food that will bring you back again and again.
Giving
The Dairy Palace family believes it is the moral obligation of a business to give back to the community from which it comes. Therefore, the Dairy Palace has received a great deal of satisfaction over the years in its county-wide sponsorship programs. The restaurant sponsors or contributes to youth sports programs, school projects, school yearbooks, community organizations, county volunteer fire departments, the county fair, Christian ministries, mission projects, and more.

The restaurant buys animals shown by students at the county fair and displays their photos on a digital board inside the restaurant. Those photos are of FFA and 4-H students whose animals were purchased by Dairy Palace.

An Honors Program for two of the junior high schools in the area was established years ago and still thrives today. In this program, the schools bring their A-B Honor Roll junior high students to the Dairy Palace for a free meal of hamburger, fries, drink and ice cream each time they make the Honor Roll at their school.

The Dairy Palace has a philosophy of hiring teens, training them well, and helping them grow in personal responsibility and self-confidence. More than 70 percent of the employees who have worked at the restaurant over the years have been school kids working for extra money, or college students working their way through school. Some have worked their way through both high school and college at the restaurant. Several of the current staff became employees in the early years and have remained with the restaurant to this day. They have all contributed greatly to the success of the Dairy Palace through the years.

We are thankful and appreciative for the support from our communities, the help from our employees and the patronage of our customers. Our greatest appreciation is for what Jesus Christ offers through His obedience to and sacrifice on the Cross many years ago. To Jesus be all glory, honor and praise for without Him, there would be no hope. Here at the Dairy Palace Restaurant, we joyfully serve Him and our customers.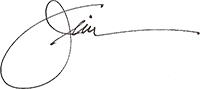 Jim Wise, Owner